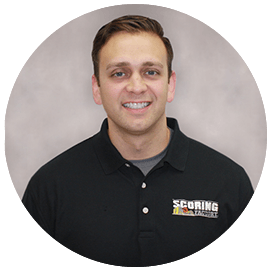 Andrew Garcia is an assistant coach with Division I University of South Carolina Upstate. Coach Garcia previously served as the Head Men's Basketball Coach at Chatham University. Garcia started the program at Chatham following a three year stint as an Assistant Coach and Recruiting Coordinator for Carnegie Mellon University's men's basketball team. Prior to CMU, Coach Garcia served as the men's assistant coach at Division II Flagler College in St. Augustine, Florida after two seasons as a Graduate Assistant Coach at Division I Marshall University where he worked with multiple players that continued their career in the professional ranks.
A Pittsburgh native and a 2002 graduate of Central Catholic High School, Coach Garcia earned his Bachelor's Degree from Tulane University in 2006 where he twice led the Green Wave in assists. As the Senior Team Captain, Garcia was a member of the Conference USA All-Academic Team and scored a career-high 23 points in a pivotal Conference USA game against the University of Southern Mississippi.
Coach Garcia completed his Master's Degree in Adult and Technical Education at Marshall University in 2009 and has previously served as the Academy Director of The Scoring Factory.