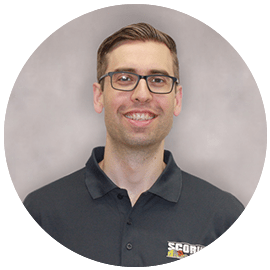 Coach Ian Johnson finished his high school career at Oak Hill Academy playing for the renowned Steve Smith. His team spent the majority of his senior year as the #1 high school team in the country and Johnson was an Honorable Mention McDonald's All-American on a roster featuring nine future Division 1 players, including Carmelo Anthony.
Coach Johnson graduated from Davidson College in 2006. Under the tutelage of Bob McKillop he racked up over 1500 career points, cracking the school's Top 10 Career scoring list (before getting knocked off by Stephen Curry) and garnering multiple All-Southern Conference selections. Despite falling to Ohio State, Johnson scored 26 points and grabbed 10 rebounds in the 2006 NCAA Tournament, en route to Player of the Game honors.
Over five professional seasons in Europe, Coach Ian earned multiple All-Star and All-League nods, playing in Hungary, Sweden, and Spain. He averaged 16 points and 7 rebounds while leading Hungarian powerhouse Paks Atomeromu to the 2009 Championship.
A deep thinker and detailed tactician, Coach Johnson has helped prepare and mentor numerous pros. Known for his approach and ability to break down the details, players come from far and wide to absorb his tutelage. A Pittsburgh native, he joined The Scoring Factory in 2014.
"Ian Johnson was one of the most highly skilled players that I have had the fortune to coach at Davidson College. His efficiency was extraordinary. Ian's outstanding success here was the result of his consistent attention to details and his mastery of fundamentals." – Bob McKillop, Head Basketball Coach, Davidson College
"Coach Ian's attention to detail has helped my game tremendously, as has his challenging but patient and positive approach to teaching." – Henry Pwono, European Professional
"From the very first session Coach Ian helped my daughter improve her individual basketball skills and, most importantly, gain confidence on the court. He is an excellent motivating instructor who brings his knowledge of the game, positive attitude, and you-can-do-it approach to every training session! He is able to make an athlete feel comfortable while quietly demanding maximum effort during every drill." – Kerry B.
"Ian's demeanor, knowledge, and approach to the game made it very easy for me to want him to work with my son. The impact he's had during individually-tailored sessions has truly been impressive. His communication skills and positive feedback have helped my son take the next step in developing as a player on the court and as a young man." – John B.