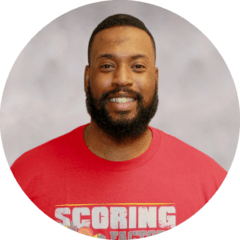 Brandon McClester is a 2014 graduate from the University of Pitt at Bradford where he earned his Bachelors degree in sports medicine.
Playing 4 years at Pitt-Bradford earning All Team honors his senior year. After college, was drafted 3rd overall in the Premier Basketball League (PBL) by the Jamestown Jackals playing from 2015-2018.
Blessed with an ability to understand and connect with young athletes as well as a passion to help push like-minded individuals to be the best. Coach McClester joined The Scoring Factory in 2015 as a coach after having trained as a player with us for many years.